Hitchhiker's Guide To The Galaxy
From Computer History Wiki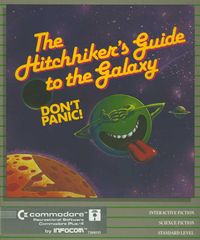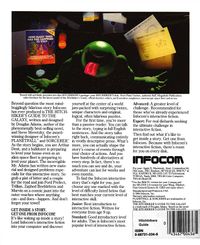 "Beyond question the most mind-bogglingly hilarious story Infocom has ever produced is THE HITCHHIKER'S GUIDE TO THE GALAXY, written and designed by Douglas Adams, author of the phenomenally best-selling novel. As the story begins, you are Arthur Dent, and a bulldozer is preparing to level your house even as an alien space fleet is preparing to level your planet. The incorrigible Mr. Adams has written new material and designed problems especially for this interactive story. So grab a pint of bitter and a couple for the road and join Ford Prefect, Trillian, Zaphod Beeblebrox and Marvin on a cosmic jaunt into the outer reaches where anything can - and does - happen. And don't forget your towel!"
bugs
        VERSION
       47/840914
       56/841221
       58/851002
       59/851108
 (SG) *31/871119

Reader response Hi Eileen,
Thought I'd let you know about a bug in the Infocom Hitchhiker's game:
At the start of the game Ford offers Arthur a towel, so Arthur (in order to continue in the game from the vogon hold, traal etc.) takes the towel. When you come back as ford, all you have to do is offer arthur the towel. BUT (ha ha!) if you don't offer to give it to him again, he can't take it. ford still has it when the scene finishes, and arthur has it when he returns to the heart of gold. Yup, that's what made Infocom games so cool. The fact that neither Hitch-Hiker's Guide or the programming made any sense at all.
Happy camping,
Peter
known versions
hitchhik-31g.z5: Infocom game data (Z-machine 5, Release 31 / Serial 871119)
hitchhik-42h.z3: Infocom game data (Z-machine 3, Release 42 / Serial 850323)
hitchhik-47.z3: Infocom game data (Z-machine 3, Release 47 / Serial 840914)
hitchhik-56.z3: Infocom game data (Z-machine 3, Release 56 / Serial 841221)
hitchhik-58.z3: Infocom game data (Z-machine 3, Release 58 / Serial 851002)
hitchhik-59.z3: Infocom game data (Z-machine 3, Release 59 / Serial 851108)