KA410 MicroVAX 2000/VAXstation 2000 System Module
From Computer History Wiki
Description
There are two versions of the KA410 MicroVAX 2000/VAXstation 2000 System Module:
KA410-A: MicroVAX 2000
KA410-B: VAXstation 2000
The KA410 system module is central to the entire MicroVAX 2000/VAXstation 2000 computer system. It is a printed circuit board mounted on the FCC shield. The system module contains all the control and interface electronics needed to support the CPU chip, support all I/O for the disks and tapes, support the video subsystem, and support the three option ports (memory, Ethernet network, and a graphics option port). This system module contains 2 megabytes of RAM and is used in both the VAXstation 2000 and MicroVAX 2000 systems. A jumper setting on the system module determines which system it is configured for. The system jumper sets a bit in the configuration and test register. [1]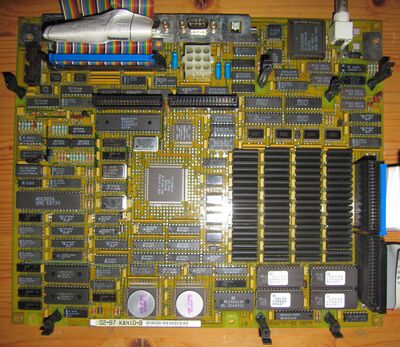 The KA410 MicroVAX 2000/VAXstation 2000 System Module contains:
ROM memory
Time-of-Year clock
DC524 Standard cell
DC503 Cursor sprite chip
DC367B Serial line controller
9224 Disk controller (up to one diskette drive and two hard disk drives)
ThinWire Ethernet circuits (Transceiver function circuitry)
Miscellaneous registers
System ROM Sets
There are at least five known System ROM Sets (four ICs 64kx8 27512 each):
23-001E7, 23-002E7, 23-003E7, 23-004E7
23-033E7, 23-034E7, 23-035E7, 23-036E7
23-050E7, 23-051E7, 23-052E7, 23-053E7: ROM V2.1
23-092E7, 23-093E7, 23-094E7, 23-095E7: ROM V2.2
(Order numbers yet unknown): ROM V2.3 is used by the SIMH microvax2000 simulator
There are probably some changes in ROM functionality, but there is very little known as of yet:
Power Requirements
The system module requires +12 Vdc, +5 Vdc, and -12 Vdc supplies for operation and a special -9 Vdc for power loading at 180 milliamps for the ThinWire Ethernet transceiver circuits on the system module.
References
[1] VAXstation 2000 and MicroVAX 2000 Technical Manual. EK-VTTAA-TM.001
External links