RX33 Flexible Disk Drive
From Computer History Wiki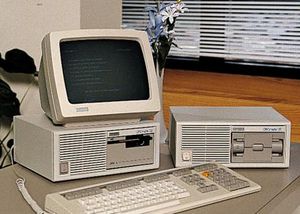 The RX33 Flexible Disk Drive was a half height floppy drive for 5.25" 1.2 MB floppies. It is a re-badged Teac FD-55GFR drive.
It is supported by the RQDX3 QBUS MFM disk controller; there was no UNIBUS controller for it. It was also used in a large number of other DEC products; e.g. in the MicroVAX 2000 and as a bootstrap device in Hierarchical Storage Controllers.
The DEC order number for RX33 floppies is RX33K.
The RX33 floppy drive is the successor to the RX50 dual floppy drive.
Citation from the RX33 Flexible Diskette Drive Brochure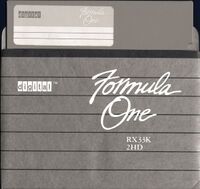 Half-height and Packed with Features
The RX33 Diskette Drive is a dual-speed, double-sided drive that uses 5.25-inch flexible diskettes. The drive contains two read/write heads, a band-type carriage positioner, and a brushless direct drive dc motor. It provides dynamic media clamping and a diskette ejection mechanism as standard features. It also has lower power consumption than the RX50 drives.
With dual mode capability, the RX33 drive can record in either standard- or high-density mode. In standard-density mode, the RX33 drive has full read/write compatibility with single-sided, standard-density RX50 diskettes.
High-density mode provides 1.2 Mbytes of storage using 96 tracks per inch, double-sided, high-density diskettes. In this mode, the RX33 drive has twice the transfer rate, and 10 percent faster seek times. Each RX33 diskette provides three times the capacity of an RX50 diskette. On Digital's systems with supportive software, the RX33 drive also provides industry standard compatibility.
The RX33 drive can provide system mass storage, backup capability, and serve as a data interchange device. It can be used for archival and portability functions. In addition, it can be used for software distribution and can serve as an auxiliary storage device to small, fixed, hard disks.
Specifications
Weight - 1.10 kg (2.43 lb)
Height - 4.32 cm (1.70 in)
Width - 14.61 cm (5.75 in)
Depth - 20.32 cm (8.00 in)
Number of tracks - 80
Number of heads - 2
Track density - 96 tracks per inch
Step rate - 3 ms per track
Diskette size - 13.13 cm (5.25 in)
Recording surfaces per diskette - 2
Sectors per track

normal density - 10
high density - 15

Capacity

Bytes per drive

high density - 409 KB
normal density - 1200 KB

Blocks per drive

high density - 800
normal density - 2400

Block size - 512 bytes
Data transfer rate (to and from media)

normal density - 250 Kbits per second
high density - 500 Kbits per second

Operating power - 4.1 watts
Standby power - 1.5 watts
Operating Conditions
Temperature range - 10°C to 46°C (50°F to 115°F)
Temperature change rate - 11°C (20°F) per hour, maximum
Relative humidity - 20% to 80% noncondensing
Maximum wet-bulb temperature - 45°C (113°F)
Minimum dew-point temperature - 2°C (36°F)
Altitude - 2400 m (8000 ft) maximum
(Reduce maximum temperature by 1.8°C for each 1,000 meter (1.0°F for each 1,000 ft) increase in altitude.)
Nonoperating Conditions
Temperature - 34°C to 60°C (30°F) to 140°F)
Temperature change rate - 20°C (36°F) per hour, maximum
Relative humidity - 5% to 90%
Maximum wet-bulb temperature - 45°C (113°F) packaged
Altitude - 9100 m (30,000 ft) maximum
External links