RX50 dual-diskette drive
From Computer History Wiki
RX50
Manufacturer:
DEC
Capacity:
400 KB (per floppy)
Transfer Rate:
250K bits/sec
Average Access Time:
164 msec
Revolutions per Minute:
300
1/2 Revolution Time:
100 msec
One Track Seek Time:
6 msec
Total Surfaces:
1 (2 floppies per RX50)
Number of Heads:
1 (per floppy)
Tracks per Surface:
80 (per floppy)
Sectors per Track:
10 (soft)
Bytes per Sector:
512
Tracks per Inch:
96
Density:
5576 flux changes/inch
Recording Method:
MFM
Start Time:
500 msec
Physical Size:
3.25" x 5.75" x 8.5"
Weight:
4.8 lb
Power Consumption:
4.2W (idle)
17.5W (active)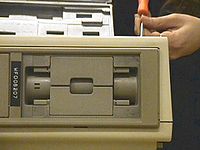 The RX50 dual-diskette drive is a 5.25" full height floppy disk drive from DEC. It uses MFM encoding, and holds 400 KB per floppy.
It is supported by the following DEC QBUS MFM disk controllers:

There are two controllers for other buses:
The DEC order number for RX50 floppies is RX50K.
4.3 BSD disktab

rx50|RX50|DEC RX50:\
    :ty=removable:ns#10:nt#1:nc#80:\
    :pa#800:ba#4096:fa#512:

External links