UA11 Unibus Analyzer
From Computer History Wiki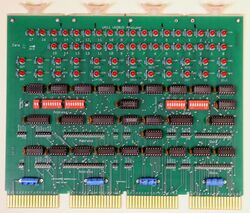 The UA11 Unibus Analyzer is not a DEC board, but something created by a member of the vintage computer community to help with debugging UNIBUS problems.
It is a quad format card, which plus into any SPC slot in a UNIBUS backplane; a set of LEDs show the status of all the UNIBUS lines. In addition, there are comparators which match data bus and address bus data to values in DIP switch blocks, to provide a trigger for test gear; also, all UNIBUS signals are brought up un header pins for convenient access.
It is available as a bare PCB, or a complete parts kit, which the user assembles themselves, or (for somewhat more) as a pre-assembled unit.
External links