RA81 disk drive
From Computer History Wiki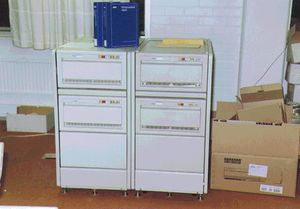 it's a dec disk drive. for a wealth of information...
14" 456 MB fixed drive. 36 msec avg. seek time, 2.2 MB/sec, SDI

The RA81 is a random-access, moving head (SDI Winchester) fixed disk drive and was introduced in 1982. It has a non-removable media using a head/disk assembly (HDA) with a capacity of 456 Mbytes. The RA81 connects to the controller via the Standard Disk Interconnect (SDI) bus. Additional drives can be connected to a controller to increase the data storage capacity. The RA81 can also be connected in a dual-port arrangement permitting time-shared access by two controllers. The RA81 is a self-contained disk drive with built-in cooling system and DC power supply. An RA81 disk drive subsystem is made up of an SDI controller and one or more disk drives. Key figures are the following.
Storage capacity of 456 Mbyte in 16-bit word format
Heat dissipation is 644 Watt nominal
17.4 Megabit/sec peak transfer rate
28 mSec. average positioning rate (average seek time)
7 mSec. maximum positioning rate (cylinder to cylinder)
50 mSec. maximum seek (innermost to outermost cylinder, in total 1258 cylinders)
8.3 mSec. average rotational latency, rotational speed is 3600 RPM
A combined RA80/RA81 sales brochure is now online @ archive.org.
BSD disktab

#
# UCB RA81: use a-b-h-g or a-b-h-d-e-f
ucbra81|UCBRA81|DEC UCBRA81 Winchester:\
        :ty=winchester:ns#51:nt#14:nc#1248:\
        :dt=MSCP:\
        :pa#15884:oa#0:ba#8192:fa#1024:\
        :pb#33440:ob#15884:bb#4096:fb#512:tb=swap:\
        :pc#891072:oc#0:bc#8192:fc#1024:\
        :pd#15884:od#242606:bd#4096:fd#512:\
        :pe#307200:oe#258490:be#8192:fe#1024:\
        :pf#325382:of#565690:bf#4096:ff#512:\
        :pg#648466:og#242606:bg#4096:fg#1024:\
        :ph#193282:oh#49324:bh#4096:fh#512: