DHT32 Asynchronous Serial Line Option
From Computer History Wiki
Description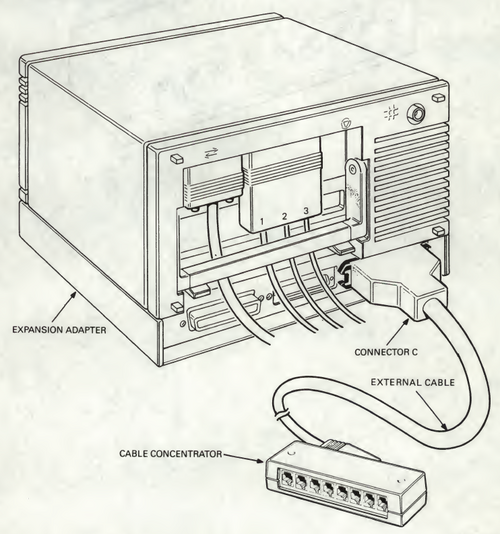 The DHT32 is an 8-line asynchronous multiplexer for the MicroVAX 2000, application compatible with the DHQ11. It provides data-only transmission at speeds up to 38.4 Kb/s, and allows eight additional terminals or peripheral devices to connect to the MicroVAX 2000 system. With the three non-modem lines and one modem line available on the MicroVAX 2000, a total of 12 asynchronous lines can be connected to the MicroVAX 2000 system. A network solution, including a DECserver 200 via Ethernet, is appropriate if more asynchronous lines are required.
The DHT32 supports the EIA-423-A standard. Terminals requiring EIA-232 connections can use an adapter. Cables that connect directly to terminals or printers are not provided as part of this option.
The option comprises one 54-17129 controller module, one driver/receiver module, internal cabling, and a connector in opening "C" on the rear of the BA40A expansion adapter. Connection of one external cable and one H3104 cable concentrator on the MicroVAX 2000, as shown below, enables the connection of additional terminals or other peripheral devices such as printers.
After installation of the cable concentrator, your MicroVAX 2000 can accomodate up to twelve terminals. Four of the terminals connect to the rear of the system unit, as explained in the MicroVAX 2000 Hardware Installation Guide (EK-MVXAA-IG). The remaining eight connect to the cable concentrator.
Note:
The DHT32 and the DST32 Synchronous Serial Line Option are mutually exclusive, and only one can be installed in a system. If synchronous lines as well as more than four asynchronous lines are required, customers can add terminals using Digital terminal servers.
Components
The DHT32 8-line asynchronous controller includes:
54-17129 serial line logic module
54-????? serial line driver/receiver module
17-00867-03 34-way internal ribbon cable
BC16D-25 external 7.5-m (25-ft) data cable
H3104 8-line data cable concentrator
Features
8-line, asynchronous, terminal-expansion option gives MicroVAX 2000 a total capacity of 12 asynchronous lines.
Performance approximates the MicroVAX II systems with DHQ11 asynchronous controller.
Specifications
Mounting Space: Daughter-boarded to the KA410 MicroVAX 2000/VAXstation 2000 System Module; driver/receiver board located in the BA40A Expansion Adapter
Power Requirements:

dc amps drawn at 5 Vdc: 1.5 A
dc amps drawn at 12 Vdc: 0.70 A
dc amps drawn at -12 Vdc: 0.12 A

Bus Loads: Private bus architecture (one F-type logic board)
I/O Connection Panel Inserts: Located in opening C in the expansion adapter
Environmental Class: B with modified relative humidity (operating) of 10 to 90% (no diskette system), and 20 to 80% (diskette in use)
References
[1] MicroVAX 2000 Installation Guide Addendum - DHT32 Asynchronous Serial Line Option. EK-ASYSL-IN-001