Difference between revisions of "386BSD 0.0"
From Computer History Wiki
Line 38:
Line 38:
 

*sort

 

*sort

 

*grep

 

*grep

 
+
---
Revision as of 17:58, 7 December 2010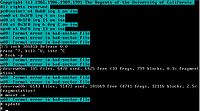 386BSD 0.0 ... is bare. It is not what you would expect, being spoiled in multiuser systems!
As they state:

     At  the  moment,  386BSD  comes up single user, and re-
quires manual starting of the system  daemons,  as  well  as
filesystem  checks. In use, one would minimally wish to type
after booting:

fsck -p
mount -a
update
/etc/netstart

     This will improve in forthcoming  versions  of  386BSD.
Be  aware  that  the  user is running as the super-user, and
care should be taken given the maximum privileges present.

that is right, no login, you are just running as root!!!!
The 0.0 announcement
what runs
Well there isn't even a 'ps' command! Gcc is version 1.39! A 'full' install, binaries and source is 43mb! this is a super bare bones port!
Ethernet seems to be only WD 8003 cards, and NE2000 ...
building a kernel easily causes it to trap!..
danger ahead!
building a kernel
the first thing you'll have to deal with is missing commands..