Digital Ethernet Large-scale-integration UNIBUS Adapter
From Computer History Wiki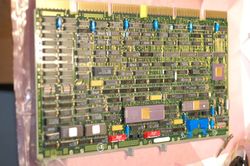 The Digital Ethernet Large-scale Integration UNIBUS Adapter (short, and usual, name DELUA) was DEC's second UNIBUS to Ethernet network interface. It consisted of one hex board, the M7521.
A number of complex chips are used:
The DELUA has 128KB of DRAM (using 64Kx1 DRAM chips), probably with parity, used for both buffers, and also to hold the microprocessor's code; there is also 16KB of ROM containing its firmware, which is copied to DRAM on startup, as the latter is faster.
See also
DEUNA, the DELUA's predecessor
Further reading
DELUA Technical Description (EK-DELUA-TD)
DELUA Field Maintenance Print Set (MP-01787)
External links