Able Computer
From Computer History Wiki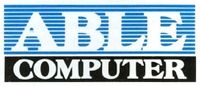 Able Computer was a company based in Irvine, California which made a variety of device controllers and similar devices (e.g. caches) for PDP-11s and other machines which used the UNIBUS or QBUS.
The controllers were usually program-compatible to existing DEC products, but more cost-effective; their other boards offered performance and capability enhancements that DEC themselves did not offer.
The following table gives the part numbers and sizes of Able products, to aid in identification of un-identified boards:
Product
Part Number
Size
Bus or Machine
UNIVERTER
10001
quad*
QBUS (UNIBUS output)
CACHE/45
10003?
quad + double dual
PDP-11/45, etc
REBUS
10014
double dual
UNIBUS
QUADRASYNC/B
10015
quad
UNIBUS
SCAT/45
10017 (control)
10025 (data)
hex (control and data)
PDP-11/45, etc
QUADRASYNC/C
10022
quad
UNIBUS
QUADRASYNC/E
10028
hex*
UNIBUS
CACHE/434-440
10031
double dual
PDP-11/34, PDP-11/40
Dual I/O
10039
quad
UNIBUS
QUADRACALL
10045
quad
UNIBUS
DMAX/16
10048
double hex
UNIBUS
BUSLINK
10062
quad
QBUS
INTERLINK
10064
hex*
UNIBUS
QNIVERTER
10067
quad*
QBUS (UNIBUS input/output)
DZ/16
10090
hex
UNIBUS
DH/DM
10100
hex
UNIBUS
VaxDZ
10140
hex
UNIBUS
UNIMAP
10143
quad*
QBUS (UNIBUS output)
VMZ/32
10185
hex
UNIBUS
DV/16
 
hex
UNIBUS
ENABLE
 
hex* (main board), quad (optional cache)
MUD (UNIBUS input)
Q/DH
 
quad
QBUS
QNIMAP
 
double dual
QBUS
* indicates a non-rectangular board; usually because there is a UNUBUS female connector on the back edge of the board
The notation "PDP-11/45, etc" means it also applies to the -11/50 and -11/55 (machines which are physically identical to the -11/45, with different main memory configurations).
In some documentation, the INTERLINK was also named the 'Interlink/UNI', and the BUSLINK the 'BUSLINK/LSI' .