Windows 1.0
From Computer History Wiki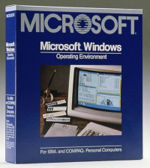 Windows 1.0 was the first release of the Microsoft Windows environment for MS-DOS. It was not a commercial success, however its design would influence the Presentation Manager for OS/2.
Windows 1.0 did not have overlapping windows, and it did not support PS/2 mice. It only ran in real mode. Needless to say this was *NOT* a popular version. It really only is of historical interest.
Even in a primitive state like this, it did have all of the components such as, USER, GDI, KERNEL etc..
There is an excellent article on the development of Windows 1.0 here.
Windows 1.0 Betas Builds