Shoebill
From Computer History Wiki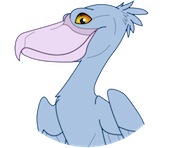 The Shoebill project focuses on running A/UX It emulates the Macintosh II hardware well enough to boot up every version of A/UX that runs on the 68020 processor. However since it loads the kernel directly, it is incapable of booting MacOS (right now, it is a long term goal.
More information, along with the source code can be found on the github page
Platforms
Mac OS X (Intel)
Microsoft Windows
Linux
Running This
I have put together a small tutorial here, on emaculation.com that goes over an installation. I'll try to convert it to a wiki format later.