MicroVAX II
From Computer History Wiki
MicroVAX II
Summary
Announcement date:
14 May 1985
FRS date:
May 1985
Codename:
Mayflower
OS support (VMS):
MicroVMS V4.1M
CPU Details
CPU name (VMS):
KA630
CPU name (console):
KA630
CPU module:
KA630
Module:
M7606 [1]
Number of processors:
1
VMS DCL CPU:
8
VMS DCL XCPU:
1
SID:
08000000
XSID:
01010000
CPU chip:
78032
CPU technology:
ZMOS
CPU cycle time:
200ns [2]
Instruction-buffer:
8 bytes [2]
Translation-buffer:
8 entries [2]
Cache:
None [2]
Compatibility mode:
No
Console processor:
CPU
Console device:
RX50 or TK50
Memory
Minimum memory:
1MB [1]
Maximum memory:
16MB [3]
Memory checking:
Parity
On-board memory:
1MB [1]
I/O
Q-bus:
1 @ 3.3MB/s [3]
LAN support:
optional [3]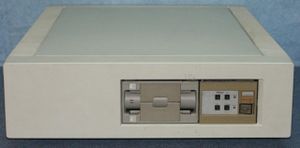 Operating Systems
The following operating systems can run on the MicroVAX II
VMS
Version 4.5 and higher can run
Digital Unix
CSRG BSD
NetBSD
Version 1.2 and higher of the VAX port of NetBSD can run on a MicroVAX II. I've even built some instructions [[Installing NetBSD 1.2 on the SIMH MicroVAX II |using SIMH]] on how to do so, that may be adapted to a real MicroVAX but I don't have one to test with.
OpenBSD
OpenBSD can run on the MicroVAX II as well, later versions are better for timing issues... 4.4 is the current good version.
Emulation
The MicroVAX II is emulated in SIMH.
External links
References
[1] MicroVAX II 630QY, 630QZ Technical Manual. AZ-FE06A-TN
[2] "CVAX-based Systems", Digital Technical Journal, Vol 1 No 7, August 1988.
[3] MicroVAX Systems Handbook 1988. EB-30991-41
[4] VAX Systems Hardware Handbook -- VAXBI Systems. EB-31692-46