VAX-11/750
From Computer History Wiki
VAX-11/750

VAX-11/750 (CPU cabinet on the left)
Summary
Announcement date:
1980
FRS date:
October 1980
Codename:
Comet
OS support (VMS):
VMS V2.0
CPU Details
CPU name (VMS):
KA750
CPU name (console):
None [1]
Number of processors:
1
VMS DCL CPU:
2
VMS DCL XCPU:
0
SID:
02006878
XSID:
0
CPU cycle time:
320ns
Instruction-buffer:
8 bytes [2]
Translation-buffer:
512 entries [2]
Control store:
6K 80-bit words [2]
Writable Control Store:
1K 80-bit words [2]
Cache:
4KB [2]
Compatibility mode:
Yes [2]
Console processor:
CPU
Console device:
TU58 [2]
Memory
Minimum memory:
1MB [2]
Maximum memory:
14MB
Physical address lines:
24
Memory checking:
7-bit ECC/longword [2]
I/O
Max I/O throughput:
5.0MB/s
MASSBUS:
3@ 2.0MB/s
UNIBUS:
1 @ 1.5MB/s
LAN support:
optional
Performance
VUPs:
0.65

The VAX-11/750 (also known as the VAX/750) is a slower, more compact, but less expensive successor to the initial VAX-11/780. It was primarily implemented in gate array chips holding 400 NAND gates; they were configured at manufacture time into the 39 different types used in the /750.
It is built around the KA750 CPU. It supported several pre-existing DEC I/O buses (UNIBUS and MASSBUS), so there are almost no VAX-11/750-specific peripherals.
One of the first OS's available for the 750 was 4.1 BSD. According to 'Quarter Century of UNIX', the DoD could purchase 6 750's for about $150,000 USD.
Internal structure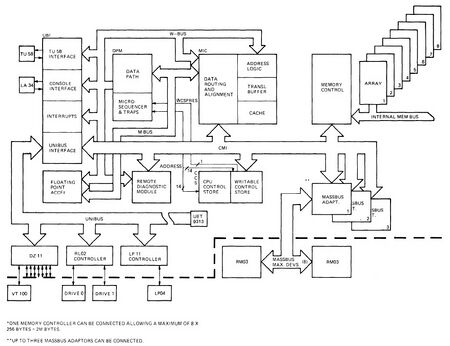 The /750 has a plethora of internal data paths; many of them are contained entirely within the KA750 CPU, and will not be detailed here. The one significant one which connected all the major functional units, including the CPU, main memory, and I/O bus adapters, was the CPU/Memory Interconnect bus (CMI). The mandatory major CMI sub-systems (and components thereof) were:
CMI Options
A variety of optional bus adapters and device controllers were available for the CMI:
Physical structure
The VAX-11/750 has one large backplane (DEC part number 50-13821/70-16486/54-13822), into which plug:
KA750 boards
CMI option boards (RH750, etc)
memory array boards
Although it is one physical unit, the backplane can be seen as divided into several logical sections; indeed, the connectors used in the memory array board section are different from those used in the 'main' section of the backplane (where all the other boards plug in).
However, the biggest difference the sections has to do with which buses are connected to each slot; many slots are thereby customized to a particular board, which has to go in that slot - and that slot can't hold anything else.
The 'main' (i.e. non-memory) section of the backplane can be logically further divided into two sub-sections: one holding optional CMI cards, and another (specifically, slots 1-6 and 10) holding the main memory controller, and the CPU (and optional ancillaries thereof). (Those latter slots have internal buses, such as the MBus and WBus, running between them.)
The CMI appears on the backplane (and nowhere else), and goes to some (but not all) slots/cards. (E.g. the FPA is not a 'CMI' card; it's part of the KA750, and plugs into the /750 backplane which carries the CMI to other slots, but that's all.)
So, one shouldn't put much weight on whether boards plug into the 'main' slots (1-10) on the /750 backplane, because that section holds a mix of special-purpose slots, and 'CMI option' slots (7-9). Although cards that the CMI goes to (MIC, UBI, RDM, WCS) are in some sense 'CMI' cards... because they have dedicated, customized, slots, one should reserve the term 'CMI card' for the cards that can go in the CMI option slots: RH780, etc.
Main backplane configuration
| Slot | Contents |
| --- | --- |
| 1 | L0001 Floating-Point Accelerator (FPA) |
| 2 | L0002 Data Path Module (DPM) |
| 3 | L0003 Memory Interconnect (MIC) |
| 4 | L0004 UNIBUS Interface (UBI) |
| 5 | L0005 CPU Control Store (CCS)/L008 Patchable Control Store (PCS) |
| 6 | L0006 Remote Diagnostic Module (RDM) |
| 7 | CMI Option |
| 8 | CMI Option |
| 9 | CMI Option |
| 10 | L0011/L0016/L0022 Memory Controller (MCM) |
VAX-11/750 images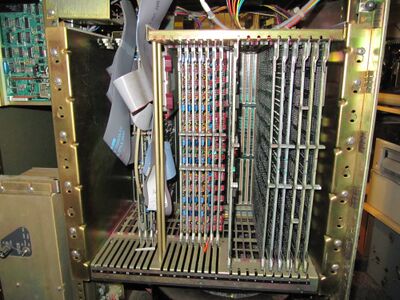 Left of card cage:
Inside card cage:
Left: DD11-DK Unibus backplane (with cards)
Center: Memory backplane section (with cards)
Right: CPU/CMI backplane section (with cards)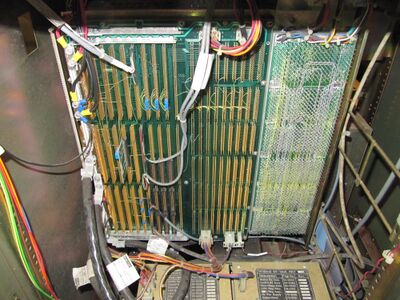 Backplanes:
Left: CPU/CMI backplane section
Center: Memory backplane section
Right: DD11-DK - UNIBUS backplane
Lower left corner: 5V and 2.5V Power Supply cables (as thick as a finger!)
Bottom: 5V and 2.5V Power Supplies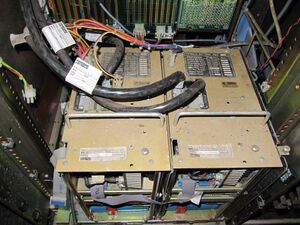 Power Supplies:
Left: H7104-C 2.5V, 85A max.
Right: H7104-D 5V, 135A max.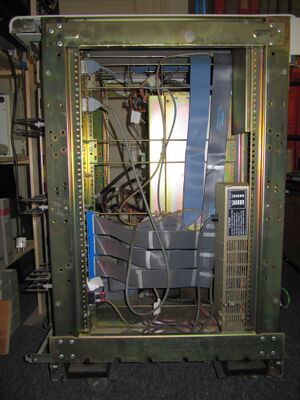 Round cables, top left:
Console
Remote Diagnose Modem
Cables, bottom left to top right:
DMF32 UNIBUS Multi-Function Communications Interface (3 flat cables)
Bottom right:
H7112 - VAX-11/780 / VAX-11/750 Battery Backup Unit
References
[1] CPU Upgrade Guide. Spring-Summer 1992.
[2] VAX Hardware Handbook Volume 1 - 1986.
[3] Systems & Options Catalog. European Edition. Spring 1990.
See also
External links