MicroVAX 3500/3600
From Computer History Wiki
MicroVAX 3500/3600
Summary
Announcement date:
9 September 1987
Codename:
Mayfair
OS support (VMS):
V4.7A or later
OS support (ULTRIX):
ULTRIX V2.2
CPU Details
CPU name (VMS):
KA650
CPU name (console):
KA650-A
CPU module:
KA650
Module:
M7620
Number of processors:
1
VMS DCL CPU:
10
VMS DCL XCPU:
1
SID:
0A000005
XSID:
01530101
CPU chip:
78034 (CVAX) [2]
FPU chip:
78132
CPU technology:
CMOS
CPU cycle time:
90ns [2]
Instruction-buffer:
12 bytes [2]
Translation-buffer:
28 entries [2]
Cache:
1KB (90ns) [2]
Backup cache:
64KB (180ns) [2]
Compatibility mode:
No
Console processor:
CPU
Console device:
None
Firmware version:
V5.3
Memory
Minimum memory:
2MB
Maximum memory:
64MB
I/O
Q-bus:
1 @ 3.3MB/s
LAN support:
optional
Performance
VUPs:
2.7 [4]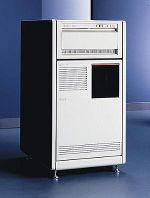 The MicroVAX 3500 and MicroVAX 3600 are very similar.The difference between the 3500 and 3600 is unclear: the MicroVAX 3600 VAXserver 3600/3602 Technical Information manual says that both used the BA213 enclosure; the MicroVAX 3600 VAXserver 3600/3602 Operation manual says that the 3600 is in the H9644 cabinet. Both agree that it had a 12-slot backplane.
They used the KA650 CPU; main memory used the KA650 Main Memory System, using a special bus carried on over the back connectors as well as the CD interconnect of the QBUS backplane. The QBUS was used only for I/O.
References
[1] Special Sales Update. Sep 1987.
[3] VAX Systems Hardware Handbook -- VAXBI Systems. EB-31692-46
[4] VAXcluster Systems. Guidelines for VAXCluster System Configurations. EK-VAXCT-CG-006
External links