VAX-11/780
From Computer History Wiki
The first VAX Introduced in 1977.
VAX-11/780
Codename:
Star
Year Introduced:
October 1977
CPU:
KA780
Clock Speed:
200 ns
VUPS:
1.0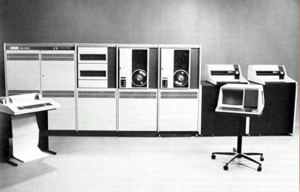 This was the first VAX from Digital Equipment Corporation. The VAX was the sucessor to the PDP-11, and in order to make the VAX seem more PDP-11 friendly, they retained the -11 monkier for the first VAX's, hence the 11/780 designation. The 11/780 didn't have normal firmware, instead it loaded it's microcode from floppy.
Emulation
SIMH is the only known emulator for the 11/780. Simh can address up to 128Mb of ram emulating an 11/780. Also the following periphals are emulated:
TLB Translation buffer
SBI
MCTL0, nexus=1
MCTL1, nexus=2
UBA, nexus=3, autoconfiguration enab
MBA0, nexus=8
MBA1, nexus=9
TODR Time of day
TMR
TTI
TTO
RX
DZ, address=2013E040-2013E05F*, vect
CR, address=2013FE70-2013FE77, vecto
LPT, address=2013FF4C-2013FF4F, vect
RP, Massbus adapter 0, 8 units
RL, address=2013F900-2013F909, vecto
HK, address=2013FF20-2013FF3F, vecto
RQ, address=2013F468-2013F46B*, no v
RQB, disabled
RQC, disabled
RQD, disabled
RY, address=2013FE78-2013FE7B*, vect
TU, Massbus adapter 1, TM03, 8 units
TS, address=2013F550-2013F553, vecto
TQ, TU81 (180MB), address=2013F940-2
XU, disabled
XUB, disabled


More information about SIMH's VAX 11/780 emulation can be found here.
Operating Systems
The 11/780 was to ship with VMS 1.0.
VMS 1.0 - ?.0
32v
Ultrix
BSD (CSRG flavor)
NetBSD
OpenBSD
There was also the VAX-11/785, which was an upgraded version.