Unix SYSVr3
From Computer History Wiki
Unix System V, Release 3 was released in 1987. The final version was Release 3.2 in 1988.
SVR3 included:
STREAMS
Transport Layer Interface (TLI) network API (TCP/IP, sockets, NFS and BSD network tools were added by dictributors)
Remote File System (RFS)
File System Switch (FSS) virtual file system mechanism
2K file system (optionally)
Static shared libraries, early implementation with mkshlib and COFF
ID (Installable Drivers) subsystem (actually, kernel re-linking from the set of object files)
Sys V R3 on AT&T 3B2
The AT&T 3B2 computer was a "porting base" for the Release 3. Thanks to Seth J. Morabito an AT&T 3B2/400 Simulator is now a part of SIMH. It can run "real" AT&T UNIX System V Release 3 on the simulator. Source code is also avaialable (but may be a subject to copyright).
It includes full SGS for WE-32000 CPU.
There was also a Wollongong WIN3B TCP/IP software (not AT&T's TCP/IP implementation) for Nicom Interlan 3B2 Ethernet card.
See more at The AT&T 3B2 Computer archive.
Sys V R3 on i386
AT&T Sys V/386
V/386 3.2.3 for AT&T 6386 machine. (Not tested on emulators)
Available at bitsavers.org: binaries
Includes SGS package:
C Software Development System 4.1.6 9/26/88
Everex ESIX
Everex ESIX overview: Let's Talk ESIX
Interactive Systems Corporation 386/ix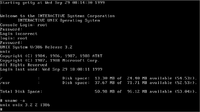 System V V/386 Release 3.2 made by Interactive Systems Corporation
A blog post about this version.
# uname -a
unix unix 3.2 2 i386

Includes X Window with Motif and Looking Glass desktop developed by Visix Software.
Includes SGS package:
C Software Development System 4.1.5 10/3/89
Microport Unix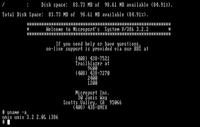 Microport's System V/386 3.2.2 made by Microport. Plain vanilla version, very close to AT&T 3.2 sources. No BSD extensions, no X Window. SGS and TCP/IP are not available (yet?).
Available at archive.org: binaries and documentation
May fail on many emulators, it does something strange with emulated VGA. To avoid this, choose a machine configuration with CGA display adaptor.
May fail on emulated i386. Select a i486.
See also: Microport System V about R2 port to i286.
Wyse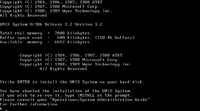 Wyse was a manufacturer of the terminals and multiport serial hardware. Also Wyse was a player on the Unix market. In 2011 an incomplete 5" diskette set was found. Later someone found a more complete distributive on a QIC cassete. In 2015 a challenge to run it in emulator was organized. Finally Wyse Unix was virtualized in 2015.
Like Microport version it has an issues with emulated VGA and i386.
Wyse System V version 3.2.1A
It includes a full SGS Package
C Software Development System 4.1.5 3/31/88
Also it includes TCP/IP, BSD networking utilities and man pages set.
Sys V R3 on RS/6000
There was an IBM AIX Version 3 (also known as AIX/6000), based on System V Release 3, for their POWER-based RS/6000 platform.
Sys V R3 on MIPS
MIPS RISC/os was a System V Release 3 for MIPS architecture with BSD extensions.
External links
Documentation
Source