VAX-11/780
From Computer History Wiki
The first VAX Introduced in 1977.
VAX-11/780
Codename:
Star
Year Introduced:
October 1977
CPU:
KA780
Clock Speed:
200 ns
VUPS:
1.0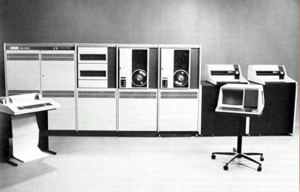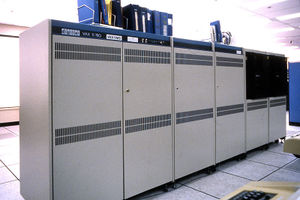 This was the first VAX from Digital Equipment Corporation. The VAX was the sucessor to the PDP-11, and in order to make the VAX seem more PDP-11 friendly, they retained the -11 monkier for the first VAXen, hence the 11/780 designation. The 11/780 didn't have normal firmware, instead it loaded its microcode from floppy.
Emulation
SIMH is the only known emulator for the 11/780. Simh can address up to 128MB of RAM emulating an 11/780. Also the following periphals are emulated:
CPU VAX-11/780 CPU
TLB translation buffer
SBI system bus controller
MCTL0,MTCL1 memory controllers, MS780C with 4MB memory each, or MS780E with 8MB-64MB each
UBA DW780 Unibus adapter
MBA0,MBA1 RH780 Massbus adapters
TODR time-of-day clock
TMR interval timer
TTI,TTO console terminal
RX console RX01 floppy disk
DZ DZ11 8-line terminal multiplexer (up to 4)
CR CR11 card reader
LPT LP11 line printer
RP RP04/05/06/07, RM02/03/05/80 Massbus disks, up to eight drives
HK RK611/RK06(7) cartridge disk controller with eight drives
RL RL11/RL01(2) cartridge disk controller with four drives
RQ UDA50 MSCP controller with four drives
RQB second UDA50 MSCP controller with four drives
RQC third UDA50 MSCP controller with four drives
RQD fourth UDA50 MSCP controller with four drives
RY RX211 floppy disk controller with two drives
TS TS11 magnetic tape controller with one drive
TQ TUK50 TMSCP magnetic tape controller with four drives
TU TM03 tape formatter with eight TE16/TU45/TU77 drives


More information about SIMH's VAX 11/780 emulation can be found here.
Operating Systems
The 11/780 was to ship with VMS 1.0.
There was also the VAX-11/785, which was an upgraded version.